White Topaz Bar Pearl Earring
Hinerava's Absolute Collection features an exquisite dangling white topaz bar & pearl earrings, set in sterling silver. Length: 4cm
You may also like…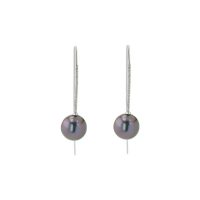 Medium Diamond Bar Pearl Earring
Hinerava's Signature Collection features striking white diamond medium bar earrings, 0.11 carats, set in 14k white gold with exceptional Tahitian pearls.  Length: 3.5 cm.
USD 1634 . EUR 1387
Add to cart
Horn Silver Earrings
Hinerava's Absolute Collection features an elegant yet daring Maohi horn inspired pair of earrings with Tahitian pearls. The back of the earrings are made of 925 sterling silver and set with brilliant white topaz, measuring 35 millimeters. The front features a beautiful pair of 9-10mm Tahitian pearl studs. The original design of these earrings is reinforced by their versatility: they can be worn with or without the horn embellishment, therefore getting two pairs of earrings in one.
USD 545 . EUR 462
Add to cart
V Pearl Silver Necklace
Hinerava's Absolute Collection features a chic and trendy V pendant of 925 sterling silver set with brilliant white topaz and an exquisite Tahitian pearl. Length: 43 cm
USD 500 . EUR 424
Add to cart