Agate & Pearl Earrings
Hinerava's Poésie Collection presents striking agate slice earrings, 38.7 carats, haloed by diamonds, 0.52 carats, set in 14K rose gold and complemented by 11mm Tahitian pearls. Length: 7 cm.
You may also like…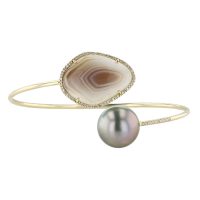 Agate Pearl & Diamond Bangle
Hinerava's Poésie Collection features a unique 14K yellow gold bangle with a striking agate slice, 7.63 carats haloed with diamonds, 0.15 carats and a 13mm Tahitian pearl.
USD 4429 . EUR 3908
Read more