Black Diamond Pearl Lariat Necklace
Hinerava's Poésie Collection features a versatile black diamond lariat, 9.03 carats, set in 18K rhodium coated gold with two beautifully contrasting Tahitian pearls. Length: 56.5 cm
You may also like…
Black Diamond & Pearl Earrings
Hinerava's Poésie Collection presents its simply sophisticated earrings: black diamonds, total 0.945 carats, set in rhodium coated 18K gold and finished with perfectly matching Tahitian pearls.  Length: 5 cm.
USD 2276 . EUR 2008
Add to cart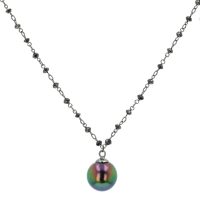 Black Diamond Pearl Necklace
Hinerava's Poésie Collection features a Black Diamond & Tahitian Pearl Necklace, 6.96 carats, set in 18K rhodium coated gold and finished with an exceptional Tahitian pearl. Length : 46 cm.
USD 5190 . EUR 4580
Add to cart