Aqua Tourmaline & Diamond Bangle
Hinerava's Privilège Collection features this elegant bangle made of a unique aqua toned tourmaline weighing 6.7 carats, surrounded by 0.33 carats of scintillating diamonds, set in 4.71 gr of 18K white gold. An exquisite 13mm light green Tahitian pearl sits opposite the tourmaline evoking Hinerava's philosophy of sophisticated simplicity.
You may also like…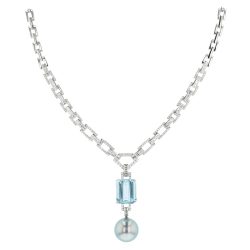 Diamond & Aquamarine Necklace
A display of innovative design and masterful craftsmanship, Hinerava's Privilège Collection combines scintillating diamonds, a flawless aquamarine centerstone and an iridescent Tahitian pearl in this alluring masterpiece. Brillant diamonds weighing a total of 5.77 carats are set in 31.02 grams of 18K white gold linked to a stupendous 15.30 carat emerald cut aquamarine and an exceptional 16.08mm light blue Tahitian pearl.
In stock
Add to cart