Aquamarine & Diamond Pearl Bracelet
Hinerava's Privilège Collection features a one of a kind Aquamarine & Diamond Pearl Bracelet composed of 5 exceptional blue Tahitian pearls, adorned with 36 slices of rare aquamarine, 40.36 carats, and 113 brilliant diamonds, 0.53 carats, set in 16.54 grams of 14K white gold. Length: 7″
Out of stock
You may also like…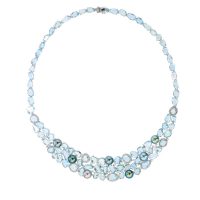 Aquamarine & Diamond Pearl Bib
Hinerava's Privilège Collection features a one of a kind Aquamarine & Diamond Pearl Necklace, composed of 7 exceptional blue Tahitian pearls, adorned with 84 slices of rare aquamarine, 72.8 carats, and 237 brilliant diamonds, 1.29 carats, set in 34.76 grams of 14K white gold. Length: 17"
USD 43204 . EUR 37395
Read more
Aquamarine Pearl Mini Bib
Hinerava's Privilège Collection presents a necklace composed of aquamarine 1.90 carats, tanzanite 0.71 carats, and topaz 0.55 carats, paired with 8 striking emerald-blue Tahitian pearls. The necklace is set in 14K white gold and is a one of kind jewel. Length : 48.5 cm.
USD 5291 . EUR 4580
Add to cart