Pearl & Diamond Bracelet
Hinerava's Privilege Collection presents a one of a kind multi pearl and diamond bracelet, composed with flower and leaf motifs and paved with brillant diamonds, 4.75 carats and highlighted with 19 lustruous Tahitian pearls, set in 30.89 grams of 18K white gold. Length: 17.5 cm
You may also like…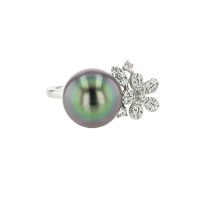 Flower Diamond Pearl Ring
Hinerava's Privilege Collection features an exquisite ring adorned with a diamond paved flower, 0.23 carats and a beautiful 11 mm Tahitian pearl, mounted in 18K white gold.
starting at USD 3827 . EUR 3345
Select options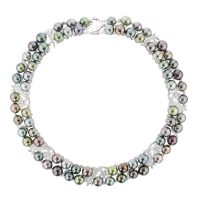 Pearl & Diamond Necklace
Hinerava's Privilege Collection presents a one of a kind multi pearl & diamond necklace, composed with flower and leaf motifs and paved with brillant diamonds, 7.73 carats and highlighted with 71 exceptionnal Tahitian pearls, set in 69.06 grams of 18K white gold.
USD 91346 . EUR 79832
Add to cart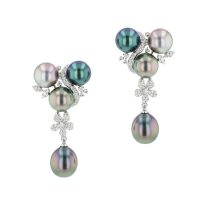 Pearl & Diamond Earrings
Hinerava's Privilege Collection presents this one of a kind pair of pearl & diamond earrings, composed with flower and leaf motifs and paved with brillant diamonds, 0.94 carats and highlighted with lustruous Tahitian pearls, green, blue and rose shaded, set in 8.72 grams of 18K white gold. Length: 4.5 cm
USD 12019 . EUR 10504
Add to cart