Multicolor Pearl Gold Bracelet
Hinerava's Signature multicolor pearl bracelet features 13 to 14 pearls of 11 mm in size. Each pearl is carefully selected for color, size, and shape, and arranged in a multicolor composition. This bracelet is finished with an 18K gold clasp. White or Yellow gold clasp available.
You may also like…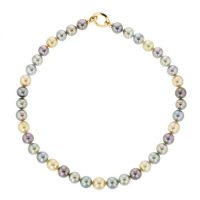 Multicolored Pearl Strand
Hinerava's Signature Multicolored Pastel Pearl Strand is a unique and exceptional Tahitian pearl necklace featuring 39 pearls, of 10mm. Each pearl is carefully selected to match perfectly within the repetitive composition of pastel blue, pink, champagne and pistachio pearls. This necklace is an exquisite work of art and is finished with a 18K yellow gold clasp.
USD 5695 . EUR 5025
Read more