Rattan Pearl Earrings
Hinerava's Elements Collection features your every day earrings: braided rattan circles, paired with 11-12 mm Tahitian pearls. Components are resin and gold plated. Length: 7 cm.
You may also like…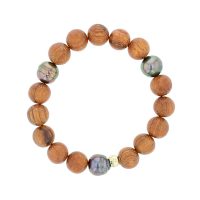 Wood Bead & Pearl Bracelet
Hinerava's Elements Collection presents a bayon wood bead bracelet with 3 Tahitian pearls, mounted on a stretch elastic for ease and comfort. This wooden bead bracelet makes the perfect everyday bracelet and looks great as part of a stack.
USD 238 . EUR 210
Add to cart