Carved Tahitian pearl pendant
starting at USD 117 . EUR 101
His Hinerava carved pearl pendant features a pearl set in sterling silver, available in 9, 10 and 11 mm. Each pearl is hand carved and unique.
You may also like…
Black Rubber Pearl Necklace
Our Black Rubber Pearl necklace is a trendy masculine piece composed of stainless steel and rubber (46cm). This 13mm Tahitian pearl includes a special magnet closure mechanism within, making it secure and stylish at the same time.
USD 379 . EUR 327
Add to cart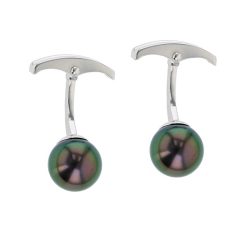 Tahitian Pearl Cufflinks
Hinerava's Classic Collection cufflinks feature two beautiful 9 to 10mm round pearls set in 925 sterling silver with rhodium finish.
USD 447 . EUR 386
Read more