Butterfly & Diamond White Gold Ring
starting at USD 5186 . EUR 4358
Hinerava's Signature Collection presents an exquisite ring adorned with a diamond paved butterfly, 0.56 carats and an exceptional 11 mm Tahitian pearl, mounted in 18K white gold.
You may also like…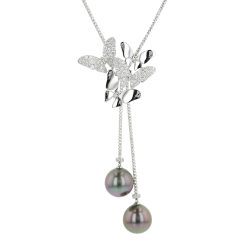 Butterfly White Gold Adjustable Necklace
Hinerava's Signature Collection features an adjustable "Toi & Moi" Tahitian pearl lariat necklace set in 11.26 grams of 18K white gold. The rare and carefully selected 11-12 mm Tahitian pearls are beautifully contrasting while butterflies paved with brillant diamonds, 1.08 carats, allow for the length of the necklace to be adjusted. Total length: 50 cm with a 4 cm extension chain.
USD 18949 . EUR 15922
Add to cart