Design Philosophy

Hinerava's design philosophy embraces simplicity as the form
of ultimate sophistication and pure elegance.
It is a notion that is reflected through contemporary pieces that can be worn for every occasion: dressed up for extravagant events, or dressed down for effortlessly chic appeal.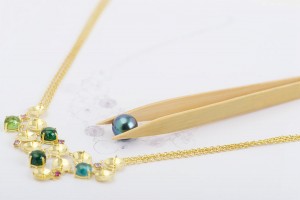 Every creation begins with and honors the pearl. Tahitian pearls are arguably the most fascinating in the world as they occur naturally in superlative palettes, including pistachio, emerald green, cherry red, aqua blue, peacock, rose, and even violet. Hinerava works closely with pearl farms to collect these exceptional gems and thus specializes in working only with the highest quality and rarest colors of pearls.
Once a unique pearl is discovered, it becomes the centerpiece of the design. Its shape will dictate whether it is drawn into a necklace, a ring, or a pendant. If rare chance allows for two similar pearls to be discovered, then they may be mounted into earrings. Finally, precious and semi-precious gems are incorporated into the creation, often enhancing the pearl's natural vibrant color. The finished piece exudes craftsmanship and timeless design.