Poésie Collection

An expression of Hinerava's romantic imagination, the Poésie Collection is an ode to femininity and grace. Sparkling and colorful gems are harmoniously matched to a rainbow palette of pearls in elegant designs that accompany women day after day.

Dazzling colors suffuse the Poésie Collection, offering a reflection of Hinerava's bright and light-hearted aesthetics.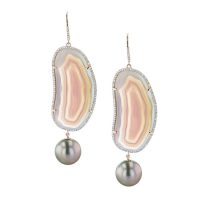 Agate & Pearl Earrings
Hinerava's Poésie Collection presents striking agate slice earrings, 38.7 carats, haloed by diamonds, 0.52 carats, set in 14K rose gold and complemented by 11mm Tahitian pearls. Length: 7 cm.
USD 7282 . EUR 6303
Add to cart