Mother of Pearl Buttons
His Hinerava Collection features Tahitian mother of pearl button cufflinks. These original cufflinks are made of 925 silver with a rhodium coating.
You may also like…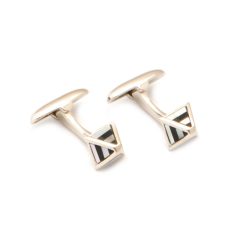 Pyramid Cufflinks
His Hinerava features a discreet yet distinctive pair of cufflinks shaped in a pyramid with alternating stripes of black and white mother of pearl. The cufflinks are made of 925 rhodium coated sterling silver with a Hinerava stamp.
USD 82 . EUR 84
Add to cart