Mother of Pearl Buttons
His Hinerava Collection features Tahitian mother of pearl button cufflinks. These original cufflinks are made of 925 silver with a rhodium coating.
You may also like…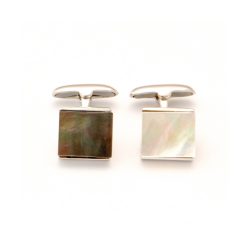 Guy Cufflinks
His Hinerava presents an alluring pair of cufflinks inspired by renowned three star Michelin chef, Guy Martin. Guy particularly loves to mix and match his cufflinks and this pair was designed in his honor. Complimentary and opposites at once, the Guy cufflinks are composed of 925 sterling silver with rhodium coating, and black & white mother pearl. A Hinerava stamp is featured on the inside of the cufflinks.
USD 151 . EUR 151
Add to cart