Diamond & Aquamarine Necklace
A display of innovative design and masterful craftsmanship, Hinerava's Privilège Collection combines scintillating diamonds, a flawless aquamarine centerstone and an iridescent Tahitian pearl in this alluring masterpiece. Brillant diamonds weighing a total of 5.77 carats are set in 31.02 grams of 18K white gold linked to a stupendous 15.30 carat emerald cut aquamarine and an exceptional 16.08mm light blue Tahitian pearl.
You may also like…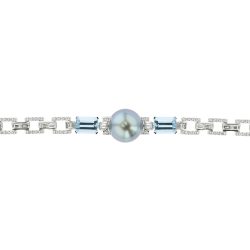 Diamond & Aquamarine Bracelet
Each piece in Hinerava's Privilège Collection embodies timeless luxury. This exquisite bracelet features two flawless emerald cut aquamarines, weighing a total of 3.08 carats, adorned with diamonds, 3.35 carats, and set in links of 18k white gold, weighing 12.23 grams. An exceptional 12mm light blue Tahitian pearl lies at the center of this bracelet, expertly complementing the aquamarines' hue while adding iridescent luster to a strikingly elegant design.
In stock
Add to cart