Pink Sapphire & Pearl Bracelet
Hinerava's Privilège Collection features a one of a kind bracelet composed of 33 exceptional pink Tahitian pearls, adorned with brilliant pink sapphires, 1.8 carats, set in 18K yellow gold. The clasp defines practical refinement as it is made for ease of attachment. Length: 18 cm.
You may also like…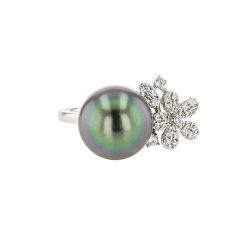 Flower Diamond Pearl Ring
Hinerava's Privilege Collection features an exquisite ring adorned with a diamond paved flower, 0.23 carats and a beautiful 11 mm Tahitian pearl, mounted in 18K white gold.
In stock
Select options
Pearl & Diamond Necklace
Hinerava's Privilege Collection presents a one of a kind multi pearl & diamond necklace, composed with flower and leaf motifs paved with brillant diamonds, 7.73 carats and highlighted with 71 exceptionnal Tahitian pearls, set in 69.06 grams of 18K white gold.
In stock
Add to cart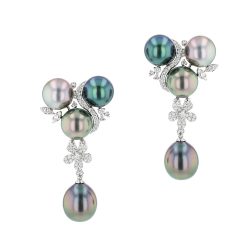 Pearl & Diamond Earrings
Hinerava's Privilège Collection presents this one of a kind pair of pearl & diamond earrings, composed with flower and leaf motifs paved with brillant diamonds, 0.94 carats and highlighted with lustruous Tahitian pearls, green, blue and rose shaded, set in 8.72 grams of 18K white gold. Length: 4.5 cm
Out of stock
Read more