You & I Bracelet
Hinerava's Absolute Collection presents a fashionable YOU & I Bracelet made of silver with gorgeous 11mm Tahitian pearls.
You may also like…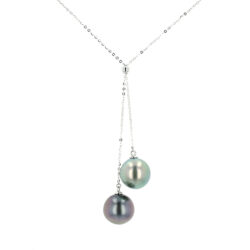 You & I Pearl White Gold Necklace
Hinerava's Signature Collection features an adjustable "Toi & Moi" Tahitian pearl necklace in 18K white gold. The carefully selected Tahitian pearls are beautifully contrasting while a gold center ball allows for the length of the necklace to be adjusted (total length is 18 inches).
USD 921 . EUR 922
Add to cart