You & I Bracelet
Hinerava's Absolute Collection presents a fashionable YOU & I Bracelet made of silver with gorgeous 11mm Tahitian pearls.
Related products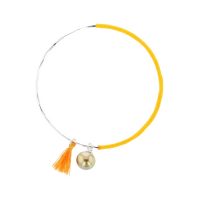 Orange Tassel Bangle
Hinerava's Elements Collection features casual chic bangles with a colored tassel and a Tahitian pearl, mounted on sterling silver. These bangles are fun layered and the perfect accessory to your summer beach look.
USD 156 . EUR 139
Add to cart