Pearl Charm
starting at USD 115 . EUR 101
Hinerava presents this Tahitian pearl charm, set in 14K white gold. The pearl size can vary from 8 to 13 mm.
Related products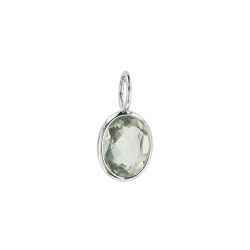 Green Amethyst Oval Cut Charm
Hinerava presents this lovely green amethyst charm in an oval cut 6x8mm and weighing 1.14 carats, set in 14K white gold. Green Amethyst is a stone of originality that encourages self love. This gem is linked to the earth and its pale green color reminds us of the beautiful foliage found in Polynesia.
USD 115 . EUR 101
Add to cart