Urchin Silver Charm
Hinerava presents this urchin charm set in sterling silver. This charm is an ode to the ubiquitous "vana" found in French Polynesia.
Related products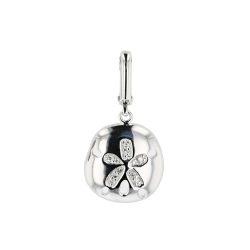 Diamond Sand Dollar Clip Charm
Hinerava presents a sand dollar charm paved with diamonds, 0.04 carats, set in 14K white gold. Sand dollars are a rare find in French Polynesia so when one is found, it is sure to be a lucky charm. This charm is mounted on a clip for versatility.
USD 1115 . EUR 975
Add to cart