Keshi Silver Studs
Hinerava's Element Collection features Tahitian keshi stud earrings, set in sterling silver.
Related products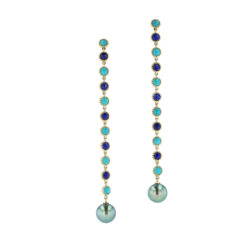 Turquoise & Lapis Lazuli Duster Earrings
Hinerava's Poésie Collection presents an exquisite pair of duster earrings made with alternating turquoise and lapis lazuli gems, symbolically representing the hues of our Polynesian ocean and lagoons. The design is finished with two exceptionnal and perfectly matched 8 to 9mm Tahitian pearls. Set in 14K yellow gold with 1.2 ct Turquoise and1.04ct lapis lazuli gems. This quintessential Hinerava design is a discreet expression of romanticism and pure elegance. Length: 7.5 cm.
USD 4162 . EUR 3940
Add to cart