Diamond Leaf Ring
starting at USD 10656 . EUR 10058
Hinerava's Signature Collection features an exquisite ring set in 4.89gr of 18K white gold. The rare and carefully selected 8 & 10mm Tahitian pearls are beautifully contrasting while brillaiant diamond leaves, 0.79 carats, enwrap the pearls. A one-of-a-kind creation from Hinerava's Privilège Collection of dramatically vibrant and luxurious jewels.
You may also like…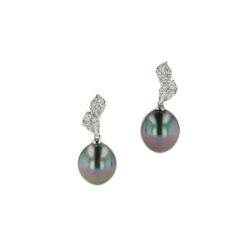 Diamond Leaf Short Earrings
Hinerava's Signature Collection presents exceptional diamond & pearl earrings, composed of leaf designs paved with brillant diamonds, 0.16 carats and highlighted with 9mm green Tahitian pearls, set in 2.46 grams of 18K white gold. Length: 2.5cm.
USD 4884 . EUR 4610
Add to cart