Pearl Charm
starting at USD 135 . EUR 126
Hinerava presents this Tahitian pearl charm, set in 14K yellow gold. The pearl size can vary from 8 to 13 mm.
Related products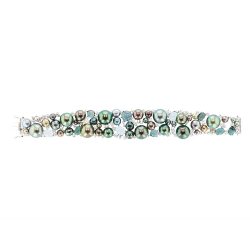 Blue Gems & Sapphire Bracelet
Hinerava's Privilège Collection features this exceptional multi pearl and blue gem bracelet, composed of vibrant Tahitian pearls and keshis expertly matched to aquamarines and tourmalines, all linked by brillant white sapphires, 5.86 carats, set in 26.9 grams of 18K white gold.
Out of stock
Read more