One Carved Pearl Black & Brown Leather Bracelet
starting at USD 431 . EUR 400
His Hinerava Collection features a trendy masculine bracelet composed of robust black and brown leather and a 12mm hand carved Tahitian pearl. Length: 20 cm or 21 cm.
You may also like…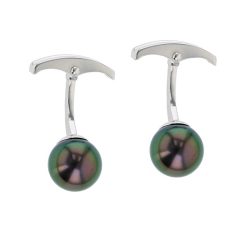 Tahitian Pearl Cufflinks
Hinerava's Classic Collection cufflinks feature two beautiful 9 to 10mm round pearls set in 925 sterling silver with rhodium finish.
USD 503 . EUR 467
Add to cart