Multicolor Pearl Strand
This Hinerava Multicolor Pearl Strand is a unique and exceptional Tahitian pearl necklace featuring 27 exquisite round pearls, valued as gem quality and measuring 14 to 16mm. Each pearl is carefully selected to match perfectly within the repetitive composition of dark, silver and champagne pearls. This necklace is an exquisite work of art and is finished with a diamond gold clasp, 0.24 carats set in 18K yellow gold. Length : 44 cm.
You may also like…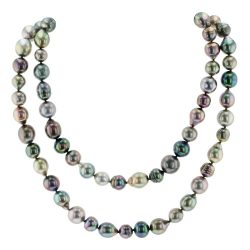 Harvest Strand Multicolor Pearl Sautoir
Hinerava's Signature Collection features the harvest strand, a striking display of the various specimens of Tahitian pearls, including round, circled, baroque, and every shape in between. In addition, our harvest strand showcases the vibrant rainbow of colors in which Tahitian pearls occur. Pearls range from 9 to 14 mm size pearls. The sautoir measures 94 cm and is finished with an 18K gold clasp. Each harvest strand is a truly unique work of art.
USD 9789 . EUR 9086
Add to cart