Butterfly & Diamond Yellow Gold Duo Ring
starting at USD 7120 . EUR 7124
Hinerava's Signature Collection presents an exquisite duo ring adorned with two diamond paved butterflies, 0.56 carats and an exceptional 11 mm Tahitian pearl, mounted in 18K yellow gold. The smaller butterfly is made of 18K rose gold.
You may also like…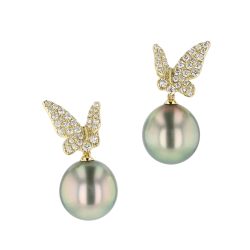 Butterfly & Diamond Yellow Gold Earrings
Hinerava's Signature Collection features striking butterfly and diamond earrings set in 18K yellow gold. The butterflies are paved with brillant diamonds, 0.62 carats and finished with exceptionally paired 11 mm Tahitian Pearls. Length: 2,5 cm.
USD 5906 . EUR 5909
Add to cart