Cushion Cut Pink Tourmaline Open Ring
Each piece in Hinerava's Privilège Collection embodies timeless luxury. This exquisite, one of a kind ring features a cushion cut pink tourmaline weighing 6.8 carats, with a lustrous 12.54mm dark aubergine Tahitian pearl, set in 4.8 grams of 18K white gold. A regal and dramatic design that radiates elegance.
You may also like…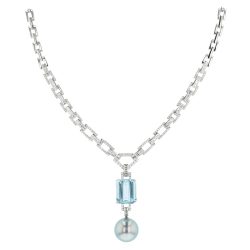 Diamond & Aquamarine Necklace
A display of innovative design and masterful craftsmanship, Hinerava's Privilège Collection combines scintillating diamonds, a flawless aquamarine centerstone and an iridescent Tahitian pearl in this alluring masterpiece. Brillant diamonds weighing a total of 5.77 carats are set in 31.02 grams of 18K white gold linked to a stupendous 15.30 carat emerald cut aquamarine and an exceptional 16.08mm light blue Tahitian pearl.
In stock
Add to cart