Pearl Jewelry - Accessories

A man's cufflink collection is never quite complete without a pair of Tahitian pearl cufflinks. At Hinerava Pearl Jewelry, we offer a selection of cufflinks made of perfectly matched Tahitian pearls and iridescent mother of pearl shell. Cufflinks are the perfect gift to celebrate an engagement, anniversary, birthday, or simply as a remembrance of an unforgettable trip to our islands.
If you do not see the Pearl Accessory that you are looking for, please contact us to assist you.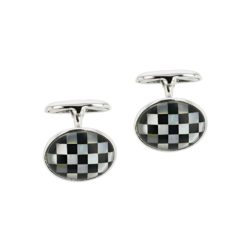 Checker Board Cufflinks
His Hinerava features an elegant pair of 925 sterling silver cufflinks with alternating layers of black and white mother of pearl in a checker board style. The silver has a rhodium coating with a Hinerava stamp.
USD 164 . EUR 151
Add to cart